Douglas W. Abendroth
Partner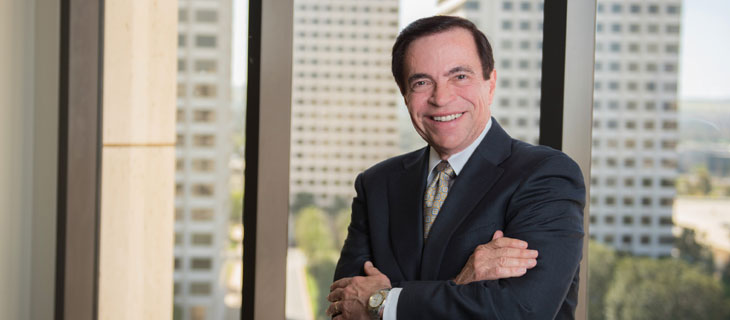 Douglas Abendroth is a partner of North, Nash & Abendroth LLP. Before joining the firm in 2007, Doug also had over 20 years tenure as an associate and partner with O'Melveny & Myers LLP. He has the highest possible peer review rating (AV) by Martindale Hubbell.
With a broad and expansive range of legal experience, Doug handles complex business litigation and disputes including trademark and copyright, business torts, shareholder and corporate disputes, contract, real estate, health care/hospital law, constitutional law, and general commercial disputes.
In addition to litigation, Doug provides transactional business legal advice and strategic legal and regulatory compliance counseling, including contract drafting and strategies to minimize litigation risk. Doug's deep legal experience equips him to provide guidance to clients at every stage—from business formation, dispute handling, and litigation—to settling matters out of court.
Doug has practiced law in Southern California for over 30 years and his accomplishments have played an important role in the development of Orange County's legal and business community. He has a served in leadership roles for both the bar and civic organizations, is a speaker and educator in various areas of the law, and is a strong support and volunteer for many local charitable organizations.
Education
Loyola Law School, Los Angeles: J.D.
J.D. magna cum laude
Honors: St. Thomas More Honor Society; Moot Court Award; Trial Advocacy Am Jur Award
Law Review: Loyola Law Review, Chief Note and Comment Editor; published author
University of California, Los Angeles, California (UCLA)
B.A. magna cum laude
Major: Political Science
PROFESSIONAL ASSOCIATIONS
American Bar Association
State Bar of California
Orange County Bar Association
Christian Legal Society
Orange County Bar Foundation (former member)
RATINGS/AWARDS
For approximately twenty years, Doug has enjoyed the highest possible peer review rating (AV) by Martindale-Hubbell for legal excellence and ethics, as recognized by judges and lawyers.
VOLUNTEER SUPPORT
Doug is actively engaged in supporting the community through non-profit organizations and Orange County charities including Second Harvest Food Bank, Legal Aid Society, Orange County Rescue Mission, Habitat for Humanity, Big Brothers/Big Sisters, Wounded Warriors, Semper Fi Fund, World Vision Adopt a Child, Make-A-Wish, and Aliso Creek Church.
JUST FOR FUN
Doug has been married for over twenty years and he and his wife have three grown children. He is an avid sports fan and enjoys season tickets to the Los Angeles Angels and Ducks events. He is a daily runner and fitness enthusiast and has been for most of his life.
Business Advisory and Consulting
Doug served as outside general counsel to an investment advisory and securities broker-dealer firm and to a television network based in Burbank.
Real Estate
Represented international real estate developer and merchant banker in a five-week, successful jury trial in defense of partnership opportunity claims arising out of the development of a 6.3 acre parcel of land in downtown Los Angeles.
Represented lenders, developers, REITs, landlords, and brokers and in all phases of the real estate business cycle.
Trade Secrets
Represented major software development company in successfully obtaining an injunction against former employee and his new business from using source codes and other trade secrets of his former employer.
Trademark Infringement and Dilution
Represented major domestic tire manufacturer in defense of trademark infringement action in federal court and before Trademark Trial and Appeal Board. Defeated preliminary injunction brought on the eve of national advertising launch of a new tire product.
Represented a Los Angeles radio broadcaster in the successful defense of a trademark action involving a station name and call letters in Federal Court.
Represented a television network in a trademark registration proceeding before the Trademark Trial & Appeal Board (TTAB) over the name of the network and successfully resolved the matter to the client's benefit.
Copyright Infringement
Represented major book publisher and author in successful, high-profile defense of action by Howard Hughes' former aide, arising out of Howard Hughes' acclaimed hand-written notes and the publication of a bestseller. Case involved alleged misappropriation of copyright, invasion of privacy, and tortious interference. Received defense judgment and affirmance on appeal.
Represented a major cable television network in successfully defending and prosecuting actions for copyright infringement in connection with television properties.
Partnership Disputes
Represented fair association in litigation with limited partner over financial accounting and management issues arising out of agreement of limited partnership.
Corporate and Securities Litigation
Represented companies in disputes over operating matters involving directors and shareholders, and corporate governance.
Dealer and Franchisee Disputes
Represented a major domestic automobile manufacturer, a foreign automobile manufacturer and a major automobile tire manufacturer, in the successful defense of various actions arising out of the termination of dealers and franchisees.
False Advertising, Defamation, Invasion of Privacy, First Amendment, Media Defense
Extensive experience advising and litigating false advertising matters and related claims. Represented major television networks, studios, and book and magazine publishers in defense of libel and slander, invasion of privacy, and right of publicity. This included defeating a high-profile wrongful death action against CBS Records over recorded music by Ozzy Osbourne, obtained affirmance in landmark appellate case.
Represented and defeated as a prior restraint an attempt to enjoin broadcast by major television network of a new situation comedy series.
Successfully represented a major television network and late-night comedy star in the defense of highly publicized defamation; and false light invasion-of-privacy action, arising out of comments during opening monologue on national television.
Financial Institutions, Foreclosures, Receiverships, Lender Liability
Represented banks and other lenders in prosecuting complex judicial foreclosure and receivership proceedings involving commercial real property, and represented numerous lending institutions in the defense of lender liability actions.
Antitrust
Represented major domestic automobile manufacturer in successful defense of purported nationwide class actions alleging price fixing, tying, and unlawful restraint of trade under Federal and State Law and RICO violations.
University and School District Consulting and Litigation
Represented major California public school districts and private universities in wide variety of matters including speech codes, academic freedom, and compliance with FERPA, HIPPA, Title VII, Title IX, and drafting compliance policies.
Contact
949-752-2248
Areas of Focus
Business Advisory and Consulting
Business/Commercial Litigation and Trials
Copyright, Trademark, Trade Secret Litigation
Real Property Litigation
Entertainment and Media

"The glory of justice and the majesty of law are created not just by the Constitution—nor by the courts—nor by the officers of the law—nor by the lawyers—but by the men and women who constitute our society—who are the protectors of the law as they are themselves protected by the law."