Vicki A. Nash
Partner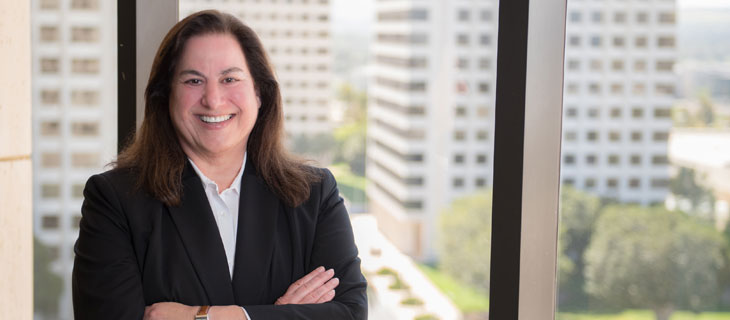 Vicki Nash is a founding partner of North & Nash LLP. She has been practicing law for more than 23 years, representing small and medium size businesses and individuals in a wide variety of legal matters.
In addition to providing general legal advice to her clients, Vicki specializes in general business litigation, real estate litigation and bankruptcy litigation. She has represented clients in State and Federal Court, at both the trial and appellate level, and in matters involving breach of contract, fraud, specific performance, conspiracy, breach of fiduciary duty, alter ego, elder abuse, business governance and control, partnership disputes, trade secret misappropriation, unfair competition, trademark and copyright infringement, foreclosures, unlawful detainers, receiverships, Proposition 65 warning disputes, and creditor bankruptcy matters.
Before attending law school, Vicki obtained a Bachelor of Science Degree in Biology and she also had a career in corporate quality assurance for several well-known food manufacturers. Following her graduation from law school, she practiced law for many years at the Newport Beach office of a prominent international law firm. At North & Nash LLP, Vicki continues to provide her clients a high level of personal attention, and efficient, yet zealous advocacy.
EDUCATION
Loyola Law School, Los Angeles, J.D. Order of the Coif, St. Thomas More Honor Society, Loyola Law Review (Member)
University of California, Davis, Bachelor of Science/Biology
PROFESSIONAL ASSOCIATIONS
American Bar Association—Litigation Section (Member), The State Bar of California—Real Estate and Litigation Sections, Orange County Bar Association—Business Litigation Section, William P. Gray Legion Lex Inn of Court, Orange County Jewish Bar Association, Orange County Lavender Bar Association, Orange County Women Lawyers Association
JUST FOR FUN
Vicki is married and has numerous canine "children." In addition to her love of dogs, she collects art and is an avid pinball player and collector of pinball machines and other mechanical novelties.
ILLUSTRATIVE PROFESSIONAL EXPERIENCE
Represented individuals in dispute over the sale of their shares in a limited liability company operating a cannabis dispensary. This involved claims for breach of contract, fraud, breach of fiduciary duty and foreclosure of security interest in the LLC. Obtained entry of judgment for damages in excess of $6 million, as well as recovery of the LLC interests.
Represented individual in Federal Court action against investment advisor for fraud, securities law violations and constructive trust, and obtained entry of $3.9 million judgment.
Represented REIT in unlawful detainer action and obtained judgment in its favor for possession and $3.5 million.
Successfully defended shareholders against a complaint for breach of fiduciary duty, negligence, constructive fraud, and interference with contractual relations, and obtained judgment in their favor.
Defended shareholders of start-up company against former employer's claims of breach of contract, misappropriation of trade secrets, tortious interference with contract and unfair competition, and defense resulted in favorable settlement for clients.
Represented mortgage lender in litigation involving borrower fraud and obtained settlement in its favor.
Successfully represented various lenders in commercial foreclosures and related receivership proceedings.
Served as Cumis counsel for clients accused of alter ego liability in an action for strict products liability, breach of warranty, breach of fiduciary duty and conspiracy, and obtained summary judgment in their favor.
Successfully defended appeal of judgment for dismissal of action alleging claims against lender for fraud, breach of fiduciary duty, and aiding and abetting.
Successfully represented manufacturer in trademark dispute and in various contract disputes.
Successfully represented corporate director and shareholder in actions involving corporate governance disputes, fraud, and securities law violations.
Successfully represented broadcasting company in trademark litigation, over rights to station name and call letters and in various contract disputes.
Successfully represented lender in bankruptcy litigation, obtained relief from stay to proceed with a foreclosure and unwound the debtor's fraudulent attempt to transfer the property at issue to a third party.
Defense of numerous manufacturing companies and service providers against bankruptcy preference/avoidance actions.
Contact
949-752-2218
Areas of Focus
Business Advisory and Consulting
Business/Commercial litigation
Intellectual Property litigation
Real Property Litigation
Bankruptcy Litigation (Creditor)
"If there were no bad people, there would be no good lawyers."