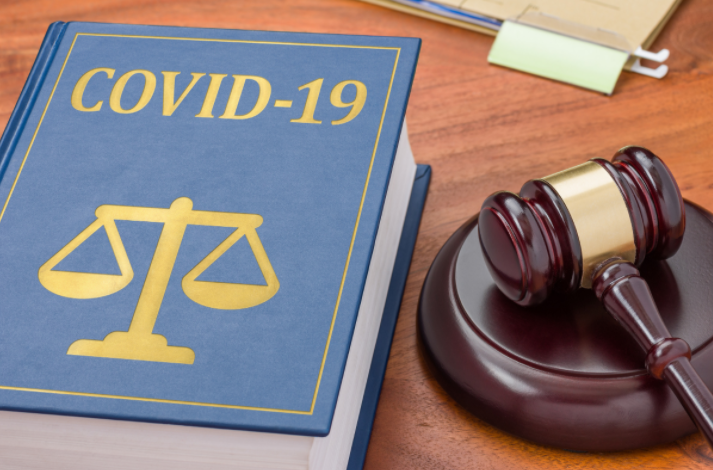 Emergency COVID-19 Prevention Rule Adopted by Cal/OSHA
Posted: December 23, 2020 | News
California's Office of Administrative Law recently approved a significant new COVID-19 Prevention Rule. Companies with California operations are strongly encouraged to update their COVID-19 safety protocols, in light of the new regulation which is effective immediately.
The emergency rule applies to most employers in California and to all places of employment in California, except workplaces with a single employee who has no contact with others, employees working from home, and employers subject to Cal/OSHA's Aerosol Transmissible Diseases standard (limited primarily to healthcare facilities, nursing homes, and emergency responders). The new regulation consists of 21 pages of specific mandates regarding COVID-19 safety in the workplace. The rule will be enforced by Cal/OSHA and will remain in effect for at least six months, but may be extended depending on circumstances.
The primary provisions are summarized below:
Written COVID-19 Prevention Program
The emergency rule mandates that applicable companies with employees, establish and enforce a written COVID-19 Prevention Program, which would be integrated into the employer's Injury and Illness Prevention Program (IIPP) or maintained separately. The program must cover 11 elements, each of which has detailed requirements and we strongly encourage all California businesses to carefully review this new rule for those details. Important takeaways those shown below:
Companies must have a system for communicating with employees about COVID-19-related policies and procedures, including procedures for accommodating employees with medical or other conditions that place them at increased risk of severe COVID-19 illness.
Companies must allow employees and any authorized union representative to participate in identifying and evaluating COVID-19 hazards, and have a process for screening employees for COVID-19 symptoms, and for indoor locations, to evaluate how to maximize the quantity of outdoor air and whether it is possible to increase filtration efficiency.
Companies must investigate and respond to COVID-19 cases in the workplace, with procedures for determining who may have had a workplace COVID-19 exposure (defined as being within six feet of a COVID-19 case for a cumulative total of 15 minutes or more in a 24-hour period), and must offer COVID-19 testing, at no cost and during work hours to all employees who had potential exposure. Companies must also provide notice, within one business day, to all employees who may have had COVID-19 exposure, as well as to any union representative and any contractors who were present at the site.
Companies must train employees on the employer's COVID-19 policies and procedures, including physical distancing, frequent handwashing, and proper use of face coverings.
Companies must inform employees about COVID-19-related benefits to which they may be entitled under federal, state, or local laws including benefits under workers' compensation, the federal Families First Coronavirus Response Act, and California's COVID-19 supplemental paid sick leave law.
Companies must ensure that employees engage in physical distancing from each other (e.g., at least six feet apart), provide face coverings to employees and ensure employees are properly wearing them (subject to certain exceptions), and evaluate whether other engineering controls, administrative controls, and personal protective equipment (PPE) are needed.
Companies must report COVID-19 cases at the workplace to the local health department, whenever required by law, and must immediately report to Cal/OSHA any COVID-related hospitalization or death of an employee that occurs at work or in connection with any employment. They also must keep a record of all COVID-19 cases including the employee's name, contact information, occupation, location where the employee worked, the date of the last day at the workplace, and the date of a positive COVID-19 test.
Companies must exclude employees with COVID-19 exposure from the workplace for 14 days after the last known exposure to a COVID-19 case. In addition, with some exceptions, the rule requires employers to maintain those employees' earnings, seniority, and all other employee rights and benefits, including their right to their former job status, as if they had not been removed from their job.
Companies must not allow COVID-19 cases to return to work until at least 24 hours have passed, after a fever of 100.4 °F or higher has resolved (without the use of fever-reducing medications), COVID-19 symptoms have improved, and at least 10 days have passed since COVID-19 symptoms first appeared. Companies may not require a negative COVID-19 test for an employee to return to work.
Multiple COVID-19 Infections, COVID-19 Outbreaks, and "Major" COVID-19 Outbreaks
The new regulation also requires companies to provide a series of free tests to all employees at a workplace, if there is a "COVID-19 outbreak" (as identified by the local health department). Or, if there are three or more individuals, who are onsite and who test positive for COVID-19, within a 14-day period. The rule directs the first test to occur "immediately" after an outbreak label or the third onsite positive case.
Additional tests must be provided to all employees each week until there are no new COVID-19 cases detected in the workplace for a 14-day period. Employees who are not onsite during the relevant outbreak or 14-day period are exempt from this testing obligation.
Further, an outbreak or three positive cases in a 14-day period triggers a requirement for companies to "immediately" review and implement changes to existing COVID-19 policies and controls, to prevent further spread of COVID-19. Companies must also notify the local health department within 48 hours from the time the employer knew, or should have known, of three or more COVID-19 cases.
If there are 20 or more COVID-19 cases in a workplace within a 30-day period, then a "major COVID-19 outbreak" has occurred under the emergency rule. The same requirements described above for multiple infections and local health department-identified outbreaks apply, except that employee testing will be required, twice a week or more frequently, if directed by the local health department.
A company in a major outbreak will also be required to incorporate high efficiency filters into the facility's ventilation system, if that has not already been done. The employer will also be required to consider whether respirators and a respiratory protection program, a halt in operations, or both are necessary to control the major outbreak.
COVID-19 Prevention in Employer-Provided Housing and Employer-Provided Transportation
The emergency rule also provides restrictions and requirements for employer-provided housing and transportation, with exceptions.
The provisions regulate housing and transportation assignments, physical distancing, face coverings, hygiene, cleaning and disinfecting, symptom screening, COVID-19 testing, and ventilation.
SUMMARY OF MAJOR POINTS
Now that it has been enacted, the emergency rule will remain in effect for at least180 days, after which it could be renewed in 90-day increments, until the emergency is over or a permanent rule is enacted.
The rule raises difficult questions about how particular provisions should be interpreted and applied. For example, the rule requires employers to notify employees and local health authorities of workplace COVID-19 cases, but it is unclear whether those requirements are fully consistent with similar provisions in Assembly Bill (AB) 685, which was recently enacted by California's Legislature and will go into effect on January 1, 2021.
In addition, it is not clear when exactly the rule will and will not require employers to continue paying employees who are excluded from the workplace due to COVID-19 exposure, how such pay must be calculated, and even whether the Cal/OSHA Safety & Health Standards Board has the legal authority to regulate employee compensation. It is foreseeable that some of these questions will be subject to legal challenges and eventually decided by the courts.
On an immediate basis, however, companies should review their COVID-19 policies and procedures to determine what they need to do to comply with the new rule. Given the breadth and complexity of the new rule, companies should also consider consulting with legal counsel for guidance.
The lawyers at North & Nash LLP are experienced attorneys and we counsel businesses on a wide variety of legal issues. Please contact us for guidance in helping your company stay in compliance with these new regulations.
Author: Partners at North & Nash LLP